Odds are, you already know just how valuable brilliant search rankings can be (a #1 Google spot for a top keyword can be worth $50k/year or more). But if you aren't a web geek, it can be a little tough to figure out how search engine optimization works.
Most SEO guides are long and filled with tech jargon, but I'm betting you don't have much time for either.
That's why I've put together a quickstart, no-nonense guide to SEO, all written in plain English. Best of all – you should be able to read through it in 5 minutes or less.
Ready to break through all the industry jargon and start building your business online? This is how SEO works.
SEO is Like Dating—And Only Two Things Matter
If you were to go into a bar with the sole purpose of finding a worthy mate, you'd probably have a list of criteria for your future spouse. You'd chat a person up, hoping to learn more about those super important qualities you covet.
Search engines work in the same way. They evaluate a website, trying to determine if it is really what the searcher is looking for.
While you might pick a date based on height and hair color, search engines bypass superficial things like the site's design. They are hoping to establish a deeper connection.
First, search engines care about what's on the inside (and you should too!). Second, they know a great indicator of worth is the quality of friends and the opinions of others.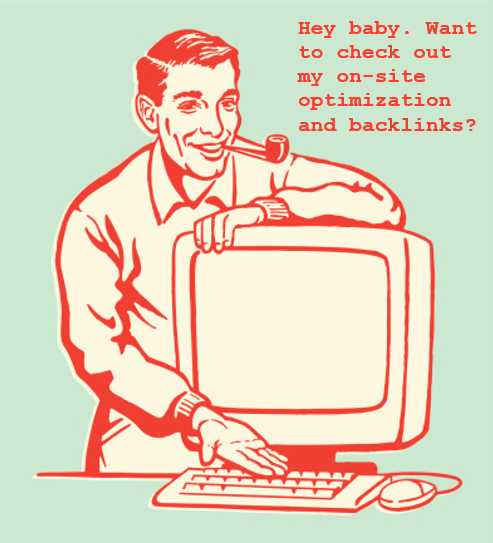 While there might not actually be romance involved, we could say that good SEO works by making a site more attractive, appealing and desirable to a search engine.
You'll be relieved to hear SEO doesn't involve the messy, embarrassing rejection of the dating world. Why? Because we already know what search engines want.
Search Engines Want Quality Content
Search engines are like any other business—they put their clients' needs above anything else.
Their "clients" are searchers. And what their searchers want are high quality websites that answer the questions they have.
If a search engine is going to give you the coveted number one spot, you had better help them meet the searcher's needs. You had better provide the content they are looking for.
If you can't do that, you'll get bumped.
In general, a search engine "reads" your website in a similar way visitors do. If it is easy for a visitor to understand what your site is about, the search engine will be able to tell too.
Here are the things that make a website easier for everyone to understand and thereby improving your SEO.
Optimize the Page Title
The title is one of the most telling characteristics of the page; it lets people know what the page is about.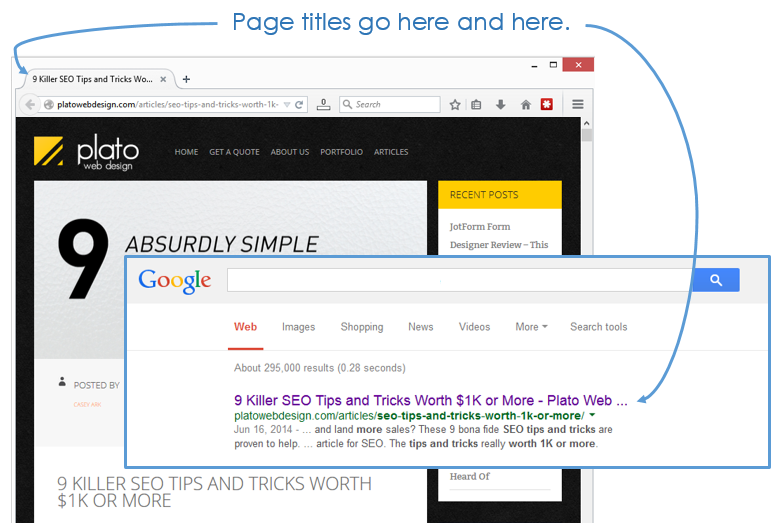 Page titles should be descriptive, yet concise. They should adequately describe what the page is about in 70 characters or less (anything beyond that won't appear on the search results page).
Use the most applicable keyword for the page in the title. Don't stuff unnecessary keywords in there; make it natural.
Format the Main Heading and Subheadings
The main heading will appear prominently on the page. While similar to the page title, the main heading is a bit more descriptive since it isn't crippled by the 70 character limit.
Websites are created using a unique language called HTML. One component of HTML is tags. When you look at a blog article, for example, you'll see varying fonts, text sizes, or colors for the different subtitles. These text differences are created by using different tags.
HTML has six different tags and they are used to create a hierarchy—one is the most important position, six is the least. Your main heading, being the most important thing on the page, should have the only H1 tag.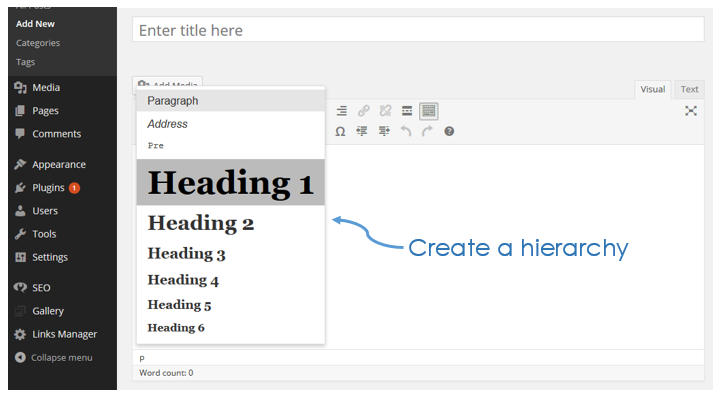 As you progress through the page's content, use the remaining tags accordingly to create the desired hierarchy of content with subheadings.
The more detailed the subheading the better. "The Origins of Pepperoni Pizza" is better than "History."
Provide Details in the Meta Description
The meta description is the short summary that appears below the page title in the search engine results page.
A good meta description will include the main keywords (but not an unnatural excess), be original to the page it describes, and contain 160 characters or less.
Check the URL Settings
Again, the name of the game is to help people understand what the page is about.
A URL that is comprised of random letters and words is just a bunch of gibberish—to both the search engine and the searcher. It makes more sense to format URLs with actual words.
Write Outstanding Content
From every corner of the SEO world, you'll hear one cheesy phrase repeated over and over: content is king.
If you only implement one SEO tactic, make it this: write quality content. Search engines state over and over that website owners need to appeal to visitors—not search bots. They've put various metrics into place to gauge the usefulness of a page (for example, the amount of time a visitor spends on a page).
"Quality" is a pretty vague term, but there are certain indicators of what search engines—and visitors—expect.
Long, in-depth articles (like 1,000+ words)
Unique content (no copy-and-paste allowed)
Compelling, interesting topics (search engines can tell if you are just rehashing the same ol' things found everywhere else)
Proper spelling and grammar
Short, easy-to-read paragraphs with subheadings and lists
If you write quality content, people will naturally be excited to link to it and share it. This is the ultimate form of word-of-mouth advertising. All you have to do is write the content; your readers will end up doing the marketing for you.
Use the Keywords People Search For
If you put too much thought into the keywords you use, you'll just mess everything up. Be natural.
The people who access your site are diverse. There will be a broad range of terms that drive traffic to your site. Remember people will have a different understanding of the issues you discuss.
You'll want to appeal to both the advanced searcher who wants to find "rack of lamb marinades" and the indecisive person looking for "grilling recipes."
Don't build your entire site around just a few phrases. Be all encompassing yet natural with your keyword selection.
That wraps up the on-site SEO tips. Now it's time to move on to the other half of the romantic equation: what other people think of you.
Search Engines Want Quality Backlinks
Search engines think the best sites are the most popular ones.
To let search engines know your site is worthy of their notice, you have to first get other people on the net to acknowledge you. By linking to your site from other websites, you can build a credible online reputation.
Build a Fan Base through Guest Blogging
A great way to draw attention to the cool things on your website is to offer your services as a guest blogger.
Sharing your expertise about the products, services or news of your industry helps establish you—and your brand—as an authority.
Make readers want to learn more about you. Draw them to your site.
Ask Other Websites to Link to You
Because you did such a great job optimizing your site, it is safe to assume other industry members will appreciate what you have to share.
Get your site on their radar. Let them know what you've been up to. Ask them to link to your video, infographic, top 10 list, definitive guide—whatever it is you have to offer.
Only Work with Reputable Sites
A teenager might be the most honest kid in the world but if he is hanging out with troublemakers, he'll soon get a bad reputation.
The same holds true for your website. If you're getting links from dark, shady places on the internet that are also linking to scammers and cheats, you'll be lumped in with all those bad guys.
When seeking out links from other websites, only contact the best in your industry. Search engines know the phrase, "too good to be true"—and that's what millions of easy links from irrelevant locations looks like.
Use Descriptive Anchor Text
Anchor text are the words used in links—and search engines are very particular about the way you write them. When linking to your site from other locations around the net, you'll want to be very selective of the anchor text you use.
The anchor text should be descriptive so the readers know where they are going if they click. Therefore, generic terms like "here," "click," and "this page," should be used sparingly.
However, there is a fine line between too long and too short. Search engines won't be able to process anchor text that is an entire sentence.
While keywords can help search engines better understand where the link leads, they should be used in moderation. Using keyword anchor text will make the search engine think you are trying to cheat the system.
If you were to rank anchor text quality from worst to best, it would look something like this:
Weight loss
These weight loss tips
Weight loss tips suggested by the America Heart Association
Share Your Content on Social Media
We've all seen those viral posts—the ones that spread across the internet in a matter of minutes. Maybe your social share could be the next big thing. Why not?!
Even if you aren't an instant internet sensation, even one extra set of eyeballs on your site will increase the likelihood of a valuable conversion.
Summing it up – How does SEO work again?
Google is looking for sites that have lots of links pointing to them, and are packed to the gills with informative content. If you want to improve your site's rankings quickly, you need to
1. Get more backlinks to your website – usually by creating interesting articles or videos that people love to share.
2. Include keywords on your pages to let Google know what you're interesting in ranking for.
If you're looking for a step-by-step way to learn more about SEO, check out our SEO guide for small businesses.
Excited About how SEO Can Help Your Site?
It's time to stop the polite nod and smile action that's supposed to disguise the SEO confusion. Since SEO is here to stay—and really is as important as everyone makes it out to be—it's time you understood the concept.
If you've still got questions about how SEO works or would like help implementing the steps outlined here, let us know. Give us a call at 1.717.903.3471 or send us an email. We'd love to help get your site to the coveted number one spot.